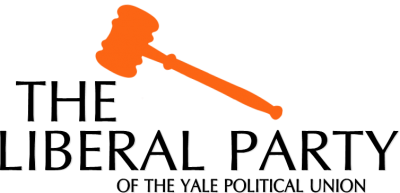 Welcome to the official website of the Liberal Party of the Yale Political Union! To learn about who we are and what we do, please click "About Us" above.
---
Opening Calendar of Events
August 31, 2015:
Join us for a Bluebooking event! Trying to pick your classes? We can offer suggestions, advice, tips and tricks. Think you already know the classes you are going to take? We can offer a fun way to spend a few hours with some cool people. 10pm in Silliman L-01. Call 201-669-2824 to be let in.
September 1, 2015:
Join us for the Lib Dinner at Yorkside Pizza at 5:00 pm. Come frolick and enjoy delicious pizza and garlic bread.
September 2, 2015:
The Liberal Party will have its first discussion of the new year! We will be discussing "When and Where Should Safe Spaces Be?" at 7:30pm​. Join us as we discuss and argue, think and ponder. 
September 4, 2015:
Come be happy for an hour with the Libs! Happiness is a social construct, so come construct it with us! 10pm in Silliman L-01.
September 7, 2015:
Join the Libs for Lib Dinner! We gather at 5:30 in Calhoun dining hall every week to relax, catch up with each other, and generally enjoy time together.  
September 8, 2015:
The Yale Political Union will have an organizational debate and meet for the first time to debate Former United States Attorney General John Ashcroft. He was Attorney General from 2001-2005 under President Bush; previously, he served as United States Senator and Governor of Missouri.
September 9, 2015:
The Liberal Party will gather to discuss a topic to be announced at the Organizational Debate the night prior. We absolutely look forward to seeing you there and hearing what you have to say!
September 11, 2015:
The Libs will be hosting a get together to get to know the new freshmen better. This party will be hosted at a room filled with fun, food, and the Libs. (The Libs are a third "f" in this phrase as a substitute for "friends.")